Skip Navigation
Website Accessibility
Greetings from your friends at Sew Fabulous
Hello From Sew Fabulous,
WHAT'S HAPPENING

I just returned from BERNINA University (BU). After a week of learning I am so energized and hope you feel the energy too after reading this newsletter.
We're excited to introduce the exciting BERNINA 790 E Pro. This is an amazing machine with lots of new advanced features. Come in and see this beauty at SEW FABULOUS - we'd love to show you how spectacular the quilting in the hoop is! (It should be in the store later this week.)
* TRADE INS. We are now taking trade-ins on your previously loved machines so that you can get the new and exciting machine that's perfect for you. A couple of things to consider when trading in a machine:
* Our first step is to look on EBAY for the same or similar machine to see what they have sold for recently. If you want to research ahead of time, be sure you're looking at the prices of SOLD machines, not the ones that are FOR SALE. We will consider giving up to 50% of the average sold price.
* Additional considerations will be: Will you be able to provide all the accessories that came with your loved machine? Is your machine in good, excellent or fair working order? What machine do you want to purchase?
Please check with Heidi for more details.
* Monthly Used Machine Sale: With the addition of used machines to our inventory, we will have a 'Used Machine Sale' the last week of every month. You can buy with confidence because all used machines will be serviced, tested and confirmed to be in good working order. You will also get instruction on the operation of the machine and 30-day labor warranty. All used machines can be viewed on our website @ https://mysewfab.com/shop/Used.htm.
* The Jump for Joy quilt along hosted in We All Sew. This 10-month program will begin in September and we'll be making up a sample so you can stop in the store to see it in person. Would you like kits? What color way would you like? It is a beginner to confident-beginner quilt project and takes you all the way from piecing the blocks through quilting, binding and finishing. WeAllSew.com (https://weallsew.com/category/projects/quilt-alongs/) will post this project in September.
THREAD OF THE WEEK: Aurifil #2830. 10% off our regular price.
NEW/INTERESTING ITEMS
SPECIAL PROGRAMS
Did you enjoy the Summer Jump Shop Hop we participated in recently? It was great to meet so many new friends. I'm very happy to announce that we'll be participating in the All Michigan Shop Hop in 2024. Read more about it at https://www.facebook.com/groups/allmichiganshophop/permalink/222424830198178/. You'll have a lot more time to plan our routes because it goes from June 1 - July 31, 2024.
UPCOMING EVENTS
We wil be CLOSED MONDAY & TUESDAY and open the rest of the week.
July 3: Closed
July 4: Closed
July 5: 9:30-6:00
July 6: 9:30-6:00
July 7: 9:30-6:00
July 8: 9:30-4:00
If you're out and about next weekend, come visit our booth at the Cal-Co Quilt Show which will be held on Friday, July 7 and Saturday, July 8, 2023 at the Marshall United Methodist Church at 721 US HWY 27 North, Marshall, MI. The show hours are 9-4 each day.
WEEKLY EVENTS AT SEW FABULOUS:
THURSDAY: Noon-5:00: Sit 'N Sew. Cost $3 which is returned with $3+ purchase that day.
FRIDAY & SATURDAY: The store will be open while Ross, Shae and I will be in Marshall at the Cal-Co Quilt Show:
Marshall Methodist Church
721 US Hwy 27 North
Marshall MI
HOURS: 9:00-4:00, July 7 & 8
Hope to see you soon! Have a happy and safe 4th of July!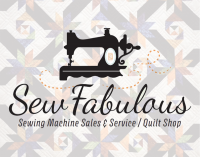 600 Romence Road, Ste 130 (in the Hillside Center)
Portage, MI 49024
(269) 459-1725
sewfabulous.mi@gmail.com
www.mysewfab.com
VIRTUAL TOUR: https://goo.gl/maps/SgXsRD12dAa1NU4s5
From I-94W take Exit 76, stay left to go south on Westnedge Ave.
Turn right on Romence Rd.
Turn right into the Hillside Center drive, just past the mall entrance on Romence Road.