Skip Navigation
Website Accessibility
Greetings from your friends at Sew Fabulous
Hello From Sew Fabulous,
WHAT'S HAPPENING
Happy Monday, y'all! I hope you're doing well.
SPECIAL CORRECTION TO MY LAST NEWSLETTER: The date of the next Embroidery Club is July 28, not the 24th as stated in my last newsletter. Sorry for the confusion.
---
Just a reminder that you have until tomorrow to make a pre-order deposit on these fantastic machines to get the special introductory price and all the wonderful gifts. After today, you still get the free gifts, but the price will go back to the normal Sew Fabulous price. (Free Gift
BERNINA 790 Pro. This is a combo machine with sewing and embroidery. Special gifts include roller bag, embroidery module bag, maxi hoop, embroidery bundle and online skill building courses provided by BERNINA of America - total value of gifts: $2400+.
BERNINA 570 QE (with or without embroidery module). Gifts include exclusive Kaffe Fassett-designed roller bag when purchasing the machine; and Kaffe Fassett-designed embroidery bag and embroidery bundle when getting the embroidery module with the machine.
---
Also, one more day to get your deposit in for the JANOME Travel Mate 30.

---
THREAD OF THE WEEK: Aurifil #1103 - 10% off all week.
---
TECH TIP: Let's all be good stewards of our machines by keeping the bobbin area clean. You should clean out the bobbin area whenever you see lint in there - I recommend cleaning every other time you change the bobbin. ALWAYS REFER TO YOUR OWNERS MANUAL FOR SPECIFIC INSTRUCTION. Most machines will follow these steps:
Remove the presser foot, needle and bobbin.

Remove the needle plate (this is the plate the fabric rides over and the needle goes down through). Refer to your owners manual on how to remove this plate. (If you're cleaning a Singer Featherweight, be sure to take note how the plate interacts with the bobbin case as you take it off. I don't want to tell you how I know this but it's very important to make sure to put it back together the same way.)

TOP LOADING MACHINES: You can usually pull out the black (or gray) bobbin case
FRONT LOADING MACHINES: There is typically a clip that holds the bobbin case in place.

Clean out all the lint you see in the bobbin area using a q-tip and/or pipe cleaner - never, ever blow into the machine to remove lint because it just pushes it into places you don't want it to be.

FINALLY, take a toothpick or pointed tool to remove any lint accumulating in the feed dogs. The feed dogs are the things that come up from the botton to feed the fabric forward/backward as you are sewing. It's important to remove lint build-up here because if there is a lot of lint in there they may not be able to go high enough to feed the fabic as needed.

Return the bobbin case, needle plate, bobbin, needle presser foot, and needle to return to sewing.
SPECIAL PROGRAMS
Heads up - a new challenge is coming! I'm calling this the GRAB BAG CHALLENGE. The Grab Bags will be available between July 24 - August 19. Guidelines will be:
Purchase a Grab Bag which will contain at least 1/2-yard of 3 different fabrics. They will be in brown paper bags so you won't know what you're getting until you open it. Once you open the bag you have to purchase it.

Grab bags are not eligible for any discounts but you will receive a one-time coupon for 20% off fabric cut from bolt (minimum 1/2-yard cut).

You must use some of each of the Grab Bag fabrics to make a quilt that measures at least 36" x 42". We must be able to recognize all three fabrics in your quilt.

Your project must be quilted, bound and labeled upon submission to Sew Fabulous.

Deadline for submission is October 28, 2023.

All customers will be able to vote for their favorite quilt throughout the month of November - voting will take place in the store.

Prizes will be determined on how many of the Grab Bags are sold, so get your friends to join the fun!
If 1-5 Grab Bags are sold there will be one $30 Gift Certificate awarded.
If 6-10 Grab Bags are sold there will be a First ($50) and Second Place ($20) awarded.
If 10 or more Grab Bags are sold there will be a First ($60), Second ($25) and Third Place ($15) awarded.
Put your Creative Hats on and lets have some fun with this!
UPCOMING EVENTS
MONDAY: 9:30-2:30: Sit 'N Sew. Bring a Lunch and enjoy some dedicated sewing time. Cost $3 which is returned with $3+ purchase that day.
TUESDAY: July 18, 1:00-4:00: Cathy's Caps
WEDNESDAY: July 19, 1:00-4:00: Wool Applique Club. Cost is $3 which is returned if you purchase something >$3 that day. For More Infomation, go to: https://mysewfab.com/module/class/411453/wool-applique-club.
THURSDAY: Sit & Sew is Cancelled this week due to the IN-HOUSE RETREAT.
THURSDAY, FRIDAY & SATURDAY, 9:00 am - 7:00 pm In-House Retreat. We still have a couple openings for all three days. Call the store or go to https://mysewfab.com/module/class/493814/sew-fab-in-house-retreat---july-2023 for more information.
LOOKING AHEAD:
Monday, July 24, 4:00-6:00: Focus on Free Motion - Session 6 "How do I Quilt It". If you missed Focus on Free Motion this time around, we're offering it again starting August 21. For more information and to sign up, please go to https://mysewfab.com/module/class/507214/focus-on-free-motion
Friday, July 28, 1:00-4:00, Embroidery Club. This month we're working on a Christmas-themed project. You can work on one you have or get something new. Deb made this beautiful table runner. If you'd like to make this design, you can purchase it @ https://www.designsbyjuju.com/ith-nativity-table-runner.

Saturday, August 5, 10:00-3:00, Old Bag Ladies and Gents Class is back! We'll be working on this fun carrying bag (By Annie calls it a "Cell Phone/Camera Case Wallet" but who really carries a camera around anymore - let's be honest, it's a Cell Phone Wallet bag.) Whatever you call it, it'll be a fun project. It doesn't require doing any pre-quilting with By Annie's Soft and Stable so the only pre-work for the class is to buy your pattern, fabric and notions and have the fabric cut and the necessary interfacing ironed on.
Have a wonderful week!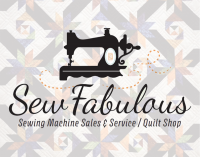 600 Romence Road, Ste 130 (in the Hillside Center)
Portage, MI 49024
(269) 459-1725
sewfabulous.mi@gmail.com
www.mysewfab.com
VIRTUAL TOUR: https://goo.gl/maps/SgXsRD12dAa1NU4s5
From I-94W take Exit 76, stay left to go south on Westnedge Ave.
Turn right on Romence Rd.
Turn right into the Hillside Center drive, just past the mall entrance on Romence Road.