Skip Navigation
Website Accessibility
Greetings from your friends at Sew Fabulous
Hello From Sew Fabulous,
WHAT'S HAPPENING
Happy Monday! SPECIAL ANNOUNCEMENT - Christmas in July has been extended through the end of this week. The last day to take advanage of these great deals is Saturday, August 5.
---
DRUMMOND ISLAND DESTINATION RETREAT
DEADLINE FOR SIGN UP IS END OF DAY, AUGUST 10, 2023.
Please call or stop in the store if your interested in attending the Drummond Island Destination Retreat, September 18-22. Hall of the registration is due at sign up and the second half is due on August 15. Call Sew Fabulous @ 269-459-1725 if you have any questions. You can read more about this fun retreat @ https://mysewfab.com/module/class/504406/sew-fabulous-destination-retreat---drummond-island-mi-fall.
---
THREAD OF THE WEEK: Aurifil #1050-2110, 10% off

---
---
NEW CLASSES

Applique 101: 12:00-2:00 - August 12, 19, & 26. This 3-session class is intended for the quilter who wants to learn how to create amazing applique quilt blocks. We will learn:
* Raw Edge Machine Applique
* Turned-Edge Invisible Machine Applique
* Turned-Edge Hand Applique
* Needle-turn Hand Applique
Go to https://mysewfab.com/module/class/508673/applique-101 for more details and to sign up.
---
LABEL MAKING WITH YOUR COMPUTER:
Labels are the crowning glory to any quilt; they tell the story of the quilt so future generations will know more about the quilt and its maker. Quilt labels can be brief with name and date, or they can tell a story or even a special poem. In this 2-hour class we'll learn how to use our computers to create some beautiful labels.
Go to https://mysewfab.com/module/class/509583/label-making-with-your-computer for more details and to sign up.
---
Jump for Joy Quilt-a-Long:
This is a great project for those who want to learn more about quilting because it will incorporate:
Learning how to cut fabrics using a rotary cutter & acrylic ruler

Learning raw-edge applique with machine techniques

Perfecting the 1/4" seam

Much more
The online course is free and can be viewed as often as you like. When you sign up for this course, you'll get personalized attention to answer questions and we'll provide insight on the construction of this fun quilt. You will receive 15% off your purchase of the fabric for this project with a paid registion, then 10% off your entire order (some exceptions apply) each day of the class. There is a one-time class fee of $25 for all 6 sessions.
---
SPECIAL PROGRAMS

CHRISTMAS IN JULY Machine prices will remain through this week.
BERNINA continues with their SUMMER FESTIVAL SERIES. This is a Free Gift with Purchase Event. Free gift values range from $120 to $3100. Stop in the store and see all the great deals.
Janome continues with their Summer Makeover program - receive a gift card to Home Depot with the purchase of select machines. See https://www.janome.com/promotions/ for more details.
PFAFF machines are specially priced - stop in and check them out. If you've ever wanted to get into a top-of-the-line embroidery machine, we have a Pfaff Creative Icon priced to go. Since this is still a new machine, the 10-year mechanical parts/2-year electronic parts/1-year free labor warranty still applies. Plus you'll get one-on-one instruction on the use and application of this beautiful machine.

---
Another beautiful machine to consider is the new Bernette 79 Yaya Han Edition. Yaya Han is a major player in the Cosplay world and has added her expertise to this version of the Bernette 79. You'll find it is a versatile sewing and embroidery machine at a price point that can fit most budgets.
UPCOMING EVENTS
MONDAY: 9:30-2:30: Sit 'N Sew. Bring a Lunch and enjoy some dedicated sewing time. Cost $3 which is returned with $3+ purchase that day.
WEDNESDAY: August 2, 9:30-Noon: Portage Quilters
THURSDAY: Noon-5:00: Sit 'N Sew. Cost $3 which is returned with $3+ purchase that day.
SATURDAY: Old Bag Ladies & Gents Club is cancelled for August. Let's get together in September and make Under Cover from ByAnnie. Some pre-work is required for this project so sign up early and plan to have fun! Go to https://mysewfab.com/module/class/443839/old-bag-ladies--gents-club for more information and to sign up.
AUGUST PROGRAMS
The Sew Fabulous Special for August is...
All kits will be 20% off (excluding Block of the Month programs and the Grab Bag Challenge) We have kits ranging in size from small table runners to queen-sized quilts.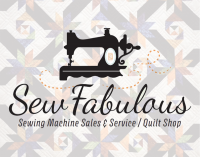 600 Romence Road, Ste 130 (in the Hillside Center)
Portage, MI 49024
(269) 459-1725
sewfabulous.mi@gmail.com
www.mysewfab.com
VIRTUAL TOUR: https://goo.gl/maps/SgXsRD12dAa1NU4s5
From I-94W take Exit 76, stay left to go south on Westnedge Ave.
Turn right on Romence Rd.
Turn right into the Hillside Center drive, just past the mall entrance on Romence Road.