Skip Navigation
Website Accessibility
Greetings from your friends at Sew Fabulous
Hello From Sew Fabulous,
WHAT'S HAPPENING
We had a great time with our Christmas in July sale - I hope you come in and see us for our August specials. If you are in the market for a new machine, be sure to stop in and check them out because we still have some amazing deals.
THREAD OF THE WEEK: Aurifil # 2525 - 10% off this week
---
There are 3 more days to let me know your intent to sign up for the Drummond Island Retreat in September. Call Heidi @ 269-459-1725 for details.
SPECIAL PROGRAMS
I'm learning about the new and exciting machines from Janome this week. There are some wonderful machines coming our way and I'd love to share all the information with you today but they made me promise not to tell all before August 14. I can tell you that I have a few machines in the store that are on sale at phenomenal prices to make room for new machines. I have clearance-priced machines from Janome, Pfaff and Bernina - come in and take advantage of this amazing opportunity. These machines are all clearance priced - in stock only (prices are so low I can't advertise them here). Don't forget, we're going to teach you about your new machine and we'll support you as you learn. You never have to fear calling us for help as you learn. More than anything else, we want you to have a good experience.
PFAFF CREATIVE ICON
BERNINA 790 E PLUS
BERNINA 880 PLUS
JANOME 9450
Janome Continental M7
UPCOMING EVENTS
MONDAY: 9:30-2:30: Sit 'N Sew. Bring a Lunch and enjoy some dedicated sewing time. Cost $3 which is returned with $3+ purchase that day.
TUESDAY: August 8: 9:30-Noon: Caring Hearts
WEDNESDAY: August 9: 1:00-4:00: Snap Dragons
THURSDAY: Noon-5:00: Sit 'N Sew. Cost $3 which is returned with $3+ purchase that day.
FRIDAY: August 11: 2:00-4:30: Software Inspirations. PLEASE call Heidi for information on this class. 269-459-1725.
FRIDAY; August 11: 5:00-7:00: Mystery Quilt.
SATURDAY: August 12: 12:00-2:00: Applique 101 with Heidi. We still have a few seats available for this fun and informative class. Learn 4 different methods of applique. Go to https://mysewfab.com/module/class/508673/applique-101 for more details and to sign up.
LOOKING AHEAD:
Next week is Wool Applique group on Wednesday afternoon. All are welcome.
Join us for a label making class on Friday, August 18 @ 4:00-6:00. Go to https://mysewfab.com/module/class/509583/label-making-with-your-computer for more details and to sign up. If you can't make it in August, the same class is being offered September 11. You will use your computer in this class, so if you struggle in that area, this is a class you don't want to miss.
Embroidery club has a fun project this month - Needle Books from Pickle Pie Designs. Check out all the information @ https://mysewfab.com/module/class/403786/sew-fab-embroidery-club-adventure.
QUESTION TO MY READERSHIP: What can I do to make classes more exciting and enticing? I scheduled a 'quilt along' starting in September that coincides with the WeAllSew video series. For the low price of $25 that pays for all 6 sessions you can get help and advice on the beautiful Jump for Joy quilt shown at https://mysewfab.com/module/class/509595/jump-for-joy-quilt-a-long and can take advantage of serious savings: Get 15% off fabric for this project with paid registration. Get 10% off your entire purchase (except sewing machines and machine accessories) on the day of each class. Why wouldn't you want to attend if only for the savings you get. I'm trying to make this more available to new quilters who work by having this class Wednesday evenings @ 5:30-7:30. Won't you consider signing up?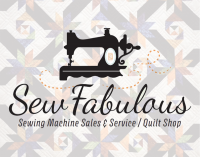 600 Romence Road, Ste 130 (in the Hillside Center)
Portage, MI 49024
(269) 459-1725
sewfabulous.mi@gmail.com
www.mysewfab.com
VIRTUAL TOUR: https://goo.gl/maps/SgXsRD12dAa1NU4s5
From I-94W take Exit 76, stay left to go south on Westnedge Ave.
Turn right on Romence Rd.
Turn right into the Hillside Center drive, just past the mall entrance on Romence Road.