Skip Navigation
Website Accessibility
Greetings from your friends at Sew Fabulous
Hello From Sew Fabulous,
WHAT'S HAPPENING
Greetings - how is everyone doing this week. We're excited to be here because we have some wonderful new things to share.
---
Starting with the THREAD OF THE WEEK. Did you know there are 423 colors of Isacord thread and we have every one of them. This is a 40wt polyester thread used primarily for embroidery. However, I know several quilters who use this thread for machine quilting because it has a sheen that really highlights the beautiful quilting done on their projects. We have126 colors of Aurifil thread, a 50wt 100% cotton thread used by many quilters for piecing and machine quilting. Every week we will be highlighting a color of Aurifil and three colors of the Isacord to bring you special savings. Start now and collect them all.
THREAD OF THE WEEK - 10% OFF these beautiful colors. Aurifil #2605 and Isacord #0003, 1352 and 3572.
---
I'm sorry to report that I didn't get enough interest in the Destination Retreat on Drummond Island in September so it's been cancelled. At the retreat last fall, everyone was provided with the pieces to create the blocks in this quilt. I put it together when we got home and it's at the store now if you'd like to stop in and see it.
During the Spring Destination Retreat, everyone was provided with the pieces to make a block with 2 Emojis. I think they all did a great job, don't you! This one is also in the store for you to come in and see.
Our next Destination Retreat is going to be a lot of fun so be sure to keep an eye on my newsletter for the announcement coming soon - it's going to be a "Mystery Destination", April 29-May 3, 2024, and you'll have to visit a few quilt shops along the way to get to your final destination.
---
Don't forget, we still have all Kits and Panels at 20% off. It's a great time to start working on those projects for Holiday Gifts!
NEW/INTERESTING ITEMS
SPECIAL PROGRAMS
THREAD CLUB - As already mentioned.
---
MACHINES - We have several clearanced machines. It's a great time to get into a beautiful new machine. Don't forget, all these machines come with the original manufacturer's warranty along with our 1-year free labor and training. We support our customers and strive to give everyone a good experience with their new machines. Come in and check them out before they're gone. THESE ARE NEW MACHINES AT USED MACHINE PRICES!
---
SPEAKING OF USED MACHINES: We have quite a few excellent machines available. We perform a complete inspection (which includes a Clean/Oil/Adjust) on all the machines we take in on trade so you can be confident when you buy a used machine from us. We will also teach you how the machine operates so you can go home and start having fun right away. More used machines are coming and will be on our website @ https://mysewfab.com/shop/Used.htm. Check them out regularly.
UPCOMING EVENTS
MONDAY: 9:30-2:30: Sit 'N Sew. Bring a Lunch and enjoy some dedicated sewing time. Cost $3 which is returned with $3+ purchase that day.
TUESDAY: August 15, 1:00-4:00: Cathy's Caps. Charity Organization - call the store if you would like more information.
WEDNESDAY: August 16, 9:30-Noon: Portage Quilters. Quilt Group - call the store if you would like more information.
WEDNESDAY: August 16, 1:00-4:00: Wool Applique Club. This is open to all who would like to work on Wool Applique projects.
THURSDAY: Noon-5:00: Sit 'N Sew. Cost $3 which is returned with $3+ purchase that day.
FRIDAY: August 18, 4:00-6:00: Label Making with your computer. Please see https://mysewfab.com/label-making-with-your-computer for all the details and to sign up.
SATURDAY: August 19, Noon-2:00: Applique 101 - Session 2. We're working on hand applique this week.
Have a wonderful week! I hope to see you soon.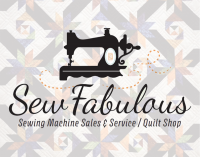 600 Romence Road, Ste 130 (in the Hillside Center)
Portage, MI 49024
(269) 459-1725
sewfabulous.mi@gmail.com
www.mysewfab.com
VIRTUAL TOUR: https://goo.gl/maps/SgXsRD12dAa1NU4s5
From I-94W take Exit 76, stay left to go south on Westnedge Ave.
Turn right on Romence Rd.
Turn right into the Hillside Center drive, just past the mall entrance on Romence Road.