Skip Navigation
Website Accessibility
Greetings from your friends at Sew Fabulous
Hello From Sew Fabulous,
WHAT'S HAPPENING
I hope you're all doing well and staying cool. What a difference a couple days make, am I right? We've got a lot going on so let me start with the Thread of the Week.
---
THREAD OF THE WEEK 10% off our already low prices on:
Aurifil # 6731 - Tiramisu
Isacord # 0010 - Silky White
Isacord # 1355 - Fox
Isacord # 3574 - Darkest Blue
---
NEW/INTERESTING ITEMS

Take a look at the B-E-A-U-T-I-F-U-L new BERNINA E16Pro. This fantatic machine has 16 needles to do all your amazing embroidery work. It won't be in the store for long because it's going to it's forever home very soon. Stop in and see it soon. We can get one in for you, too!
---

I mentioned several weeks ago that we are now taking trade-ins and here are some of the wonderful machines we've checked over and given the thumbs-up to go home with a lucky person.
In the top row from Left to Right: PFAFF Creative 4.0 (this is an embroidery and sewing machine with lots of extras including several hoops); JANOME 1600P (a very fast and powerful straight-stitch only machine); BERNINA 830 Record (owners of these machines hang on to them like gold because they work so well and this one is no exception)
In the bottom row from Left to Right: BERNINA 2500D Serger (very dependable and reliable, this is a manual threading serger at a great price); Singer Featherweight 221 (beautiful is all I can say about this machine - it has an LED light and lots of extras).
---
SPEAKING OF TRADE-INS - Next month is the BERNINA Trade-In Event. Keep this in mind as we move into September next week. I'll have more details in next week's newsletter.
SPECIAL PROGRAMS
Just a few more days of the August Promotions:
---

So many gifts with purchase I can't show all of them here. Stop in the store to see all the details.
---
---
PFAFF has free gifts with purchase as well - go to PFAFF.com for all the details
UPCOMING EVENTS
MONDAY: 9:30-2:30: Sit 'N Sew. Bring a Lunch and enjoy some dedicated sewing time. Cost $3 which is returned with $3+ purchase that day.
TUESDAY: August 22 - 4:00-7:00: Bias Squares, a KLCQ Group. For more information on joining the Kalamazoo Log Cabin Quilters Guild, please go to https://klcq.org/
WEDNESDAY: August 23 - 1:00-4:00: Snap Dragons, a KLCQ Group. https://klcq.org/
THURSDAY: Noon-5:00: Sit 'N Sew. Cost $3 which is returned with $3+ purchase that day.
FRIDAY: August 25 - 1:00-4:00: Embroider Club. This is open to anyone with an embroidery machine. We still have a couple seats left for this class so if you're interested, please go to https://mysewfab.com/module/class/403786/sew-fab-embroidery-club-adventure to read all about it and sign up. Be sure to read the details about what you need to bring based on the project you want to do.
SATURDAY: August 26 - Noon-2:00: Applique 101, Session III. This session we'll be doing more hand applique in a technique called "Back Basting Needle Turn".
HOW ABOUT A FEW FREEBEE PROJECTS?
With school starting soon, these adorable bookmarks from JANOME might come in handy. Get the instructions @ Janome.com > projects
One more, just because...these little patchwork zipper pouches are just too cute! Get the instructions @ Janome.com > projects
Have a great week. Hope to see you soon!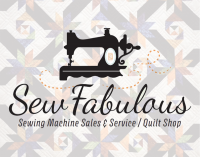 600 Romence Road, Ste 130 (in the Hillside Center)
Portage, MI 49024
(269) 459-1725
sewfabulous.mi@gmail.com
www.mysewfab.com
VIRTUAL TOUR: https://goo.gl/maps/SgXsRD12dAa1NU4s5
From I-94W take Exit 76, stay left to go south on Westnedge Ave.
Turn right on Romence Rd.
Turn right into the Hillside Center drive, just past the mall entrance on Romence Road.