Skip Navigation
Website Accessibility
Greetings from your friends at Sew Fabulous
Hello From Sew Fabulous,
WHAT'S HAPPENING
We are starting a 6-Month Block of the Month program on this 57 1/2" x 74 1/2" beauty. This project is appropriate for confident beginners. It's B-E-A-U-T-F-U-L - stop in and it done up in the store.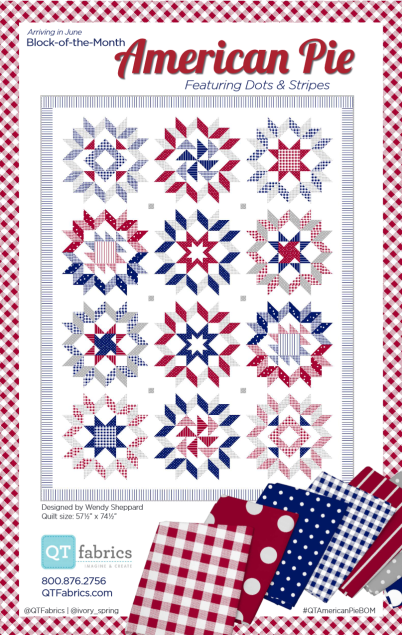 ---
NEW CLASS: Objective UFO/USO
Would you like to finish some projects you've been putting off or start a new one? Join Heidi and the crew at Sew Fabulous for some dedicated time to this goal. We'll help you by answering questions, providing guidance or simply encouraging you as you complete project after project. If you're new to sewing, you can sign up for this class and come in to learn what you need to know to get started. You can work on making a quilt, bag, craft or garment. Also, there will be times when you can come for the Wednesday class and leave your stuff set up and return for the Thursday class as well - like a mini retreat!
Space is limited so be sure to register ahead of time. Go to https://mysewfab.com/module/class/515723/objective-ufouso for more details and to sign up.
---
THREAD OF THE WEEK:
Aurifil #2785 - Very Dark Navy
Isacord #0101 - Eggshell
Isacord #1430 - Melon
Isacord #3620 - Marine Blue
---
Who doesn't love a good CHALLENGE? Scott, the President of Jaftex Fabrics, has issued a challenge to all our customers and it goes like this:
Come to Sew Fabulous and tell a worker that "Scott Sent Me".

Have your phone handy so you can take a picture of yourself in the store - we have a sign for you to hold up. Get a free fat quarter with this visit.

Go to the Scott Sent Me Facebook (https://www.facebook.com/groups/scottsentme2023)
There will be 10 prizes. For all the details, go to https://scottfortunoff.com/everything-you-need-to-know-about-scottsentme2023/.
NEW/INTERESTING ITEMS
We're contantly getting new fabric in. We put kits together for the American Pie BOM and have some of those wonderful fabrics left.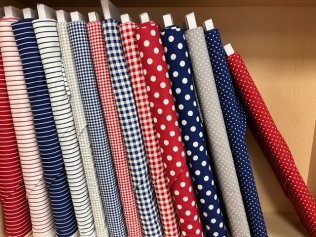 Have you checked out our Batiks wall lately?

How about those seasonal projects? Here are some you may love.

SPECIAL PROGRAMS
The Trade-In Event is still going on through the end of this month. Come in and check out what your machine could be worth. Also, I've extended the punch card offer through the end of the month: When you purchase a machine at Sew Fabulous before October 1 you will receive a punch card for special savings. You have until March 31, 2024, to use up the card; you can do it all at once or anytime between now and then.
UPCOMING EVENTS
EVERY MONDAY: 9:30-2:30: Sit 'N Sew. Bring a Lunch and enjoy some dedicated sewing time. Cost $3 which is returned with $3+ purchase that day.
TUESDAY: September 19, 1:00-4:00: Cathy's Caps
WEDNESDAY: September 20, 9:30-Noon: Portage Quilters
WEDNESDAY: September 20, 1:00-4:00: Wool Applique Club
THURSDAY: September 21, Noon-5:00: Sit 'N Sew. Cost $3 which is returned with $3+ purchase that day.
FRIDAY: September 22, 1:00-4:00: Embroidery Club. We still have 2 seats available. Go to https://mysewfab.com/module/class/403786/sew-fab-embroidery-club-adventure for details on this month's adorable project and to sign up.
---
SPECIAL NOTICE:
We care about all our customers. We want those who purchase machines at Sew Fabulous to be able to get the most out of their machine. All new sewing machines come with a manufacturer's warranty for which you need to register your machine. If you haven't registered your new machine, I encourage you to do that. Not only does it ensure that you get the fulfillment of the warranty promise but you also get a number of other things you may not realize how important they are. For instance:
When updates are needed on your machine, the company can send out notifications directly to you so you don't miss a thing. Updates are usually free, upgrades may have a cost associated with them.
You are notified when there is important informtion to be shared about your machine. Think about your car, most manufacturers will notifiy you when there is something that needs to be fixed; same is true for your sewing/embroidery/serging/quilting machine.
If you have an questions on how to register your machine, please let us know, we'll help all we can.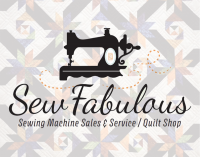 600 Romence Road, Ste 130 (in the Hillside Center)
Portage, MI 49024
(269) 459-1725
sewfabulous.mi@gmail.com
www.mysewfab.com
VIRTUAL TOUR: https://goo.gl/maps/SgXsRD12dAa1NU4s5
From I-94W take Exit 76, stay left to go south on Westnedge Ave.
Turn right on Romence Rd.
Turn right into the Hillside Center drive, just past the mall entrance on Romence Road.