Skip Navigation
Website Accessibility
Greetings from your friends at Sew Fabulous
Hello From Sew Fabulous,
WHAT'S HAPPENING
We would love to get your opinion on a few things. Please consider taking our survey by going to (CLICK HERE TO GO TO THE SURVEY). If you have any problems with this link, use your phone or tablet to scan this QR code to access and complete the survey.
At the end, you will be prompted to fill out a form to enter a drawing for a $25 gift certificate. The drawing form is not linked to your survey responses in any way. The Survey will be available until November 20 and the drawing will be November 21. We will contact the winner by phone. Thank you for your help.
---
THREAD OF THE WEEK:
#2123 - Butter
Isacord #0131 - Smoke
Isacord #1600 - Spanish Tile
Isacord #3650 - Ice Cap
NEW/INTERESTING ITEMS
It's time to sign up for the newest Block of the Month - Daydream Garden.
Designed by Tim Coffey for Wilmington Prints, it is a vibrant and colorful collection featuring lovely illustrations of blooming flowers, fluttering butterflies and tossed ferns in a cheerful color palette of black, pink, burgundy and green. The designs are intricately detailed, with lots of layering and shading that bring a sense of depth and realism to the fabric. Daydream Garden is a delightful collection that captures the essence of a day-dreamy garden in full bloom.
DAYDREAM GARDEN block of the month starts December 15; credit cards will be charged on the 15th of December then every 30 days after that for 8 months. If you have any questions, please call the store at 269-459-1725. $34/month (plus shipping if selected). For more details and to sign up, please go to https://mysewfab.com/module/subscription.htm?id=5464.
---
Are you thinking a good used machine might be right for you? We has some wonderful options - all have been inspected and professionally serviced by our certified technicians and are ready for a new home. Let it be yours!
---
---
---
SPECIAL PROGRAMS
Stop in next Wednesday or Thursday afternoon for a free demo on Foot #43, Free-Motion Couching Foot. You'll be amazed at the beautiful results you get with this foot.
Are you getting ready for the Holidays? We have some great deals on BERNINA, PFAFF, and JANOME machines going on right now to help you get a jump start! You can research the great deals for each brand as follows them come into the store and check out the machines.
BERNINA: BERNINA PROMOTIONS
PFAFF: PFAFF PROMOTIONS
JANOME: JANOME PROMOTIONS JANOME is also hosting a season-long 'Open House' with lots of projects and videos. Check out the details @ JANOME OPEN HOUSE
UPCOMING EVENTS
TUESDAY: Nov 7, 12:00-3:00 - SW MI Longarmers (guild)
WEDNESDAY: Nov 8, 1:00-4:00 - Snap Dragons
WEDNESDAY: Nov 8, 4:00-6:00 - Unfinished Projects - Bring in a project to work on and get guidance from the staff here are Sew Fabulous. Cost $15.
THURSDAY: Nov 9, 9:30-Noon - Unfinished Projects - Bring in a project to work on and get guidance from the staff here are Sew Fabulous. Cost $15Noon-5:00: Sit 'N Sew. Cost $3 which is returned with $3+ purchase that day.
THURSDAY: Nov 9, Noon-5:00: Sit 'N Sew. All are welcome. Cost $3
LOOKING AHEAD:
MONDAY: Nov 13, 10:00-5:00 - DITTO Class with Caryn Mount. This class is SOLD OUT. We're looking forward to a fun day using the DITTO machine to make our little stuffed bears. I will be sending a separate email to those who have signed up with a reminder of what to bring. Look for it on Wednesday.
FRIDAY: Nov 24, 1:00-4:00 - EMBROIDERY CLUB. Due to Thanksgiving, we pushed this class out a week so it is on the 4th Friday (usually, it's the 3rd Friday). We'll be making these adorable ornaments. Go to https://mysewfab.com/module/class/403786/sew-fab-embroidery-club-adventure for more details and to sign up. Space is limited so sign up soon.
HAVE A GREAT WEEK
Heidi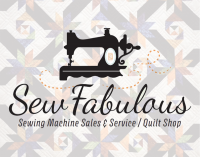 600 Romence Road, Ste 130 (in the Hillside Center)
Portage, MI 49024
(269) 459-1725
sewfabulous.mi@gmail.com
www.mysewfab.com
VIRTUAL TOUR: https://goo.gl/maps/SgXsRD12dAa1NU4s5
From I-94W take Exit 76, stay left to go south on Westnedge Ave.
Turn right on Romence Rd.
Turn right into the Hillside Center drive, just past the mall entrance on Romence Road.